Abstract
We have begun to offer our own unique training service, which uses robots called Telenoid as learning tools. We expect it will help develop communication and observation skills for caregivers.
Telenoid is a remotely-operated android robot developed by Prof. Hiroshi Ishiguro (Professor and Fellow ATR, Osaka University Graduate School Mathematical Science department of Engineering Science). It is characterized by its minimal design and combination of linguistic (vocal calls) and non-linguistic (hugs) communication.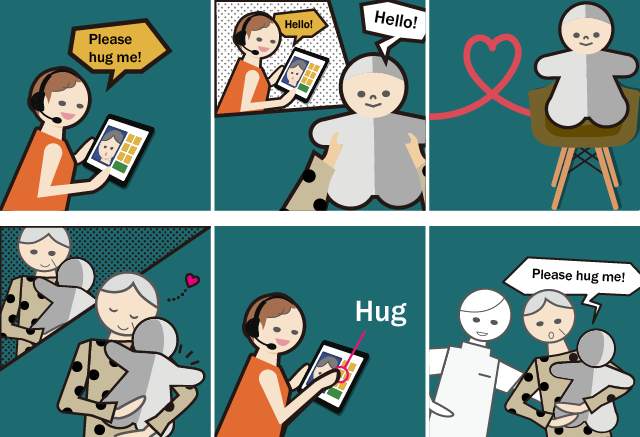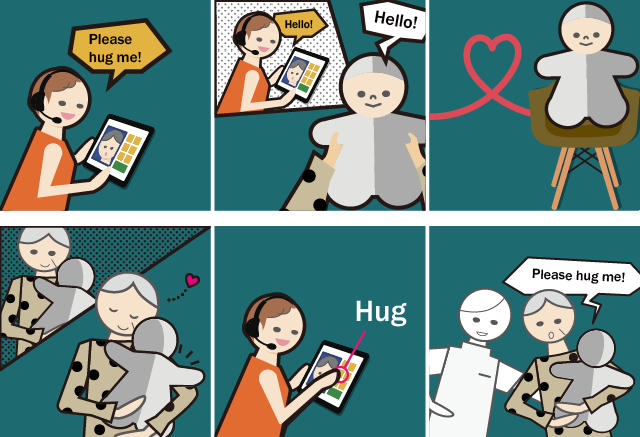 When Telenoid robots are interposed in communication between an elderly person and a caregiver, it provides a different quality of communication and can lead to an innovative life for older adults with dementia.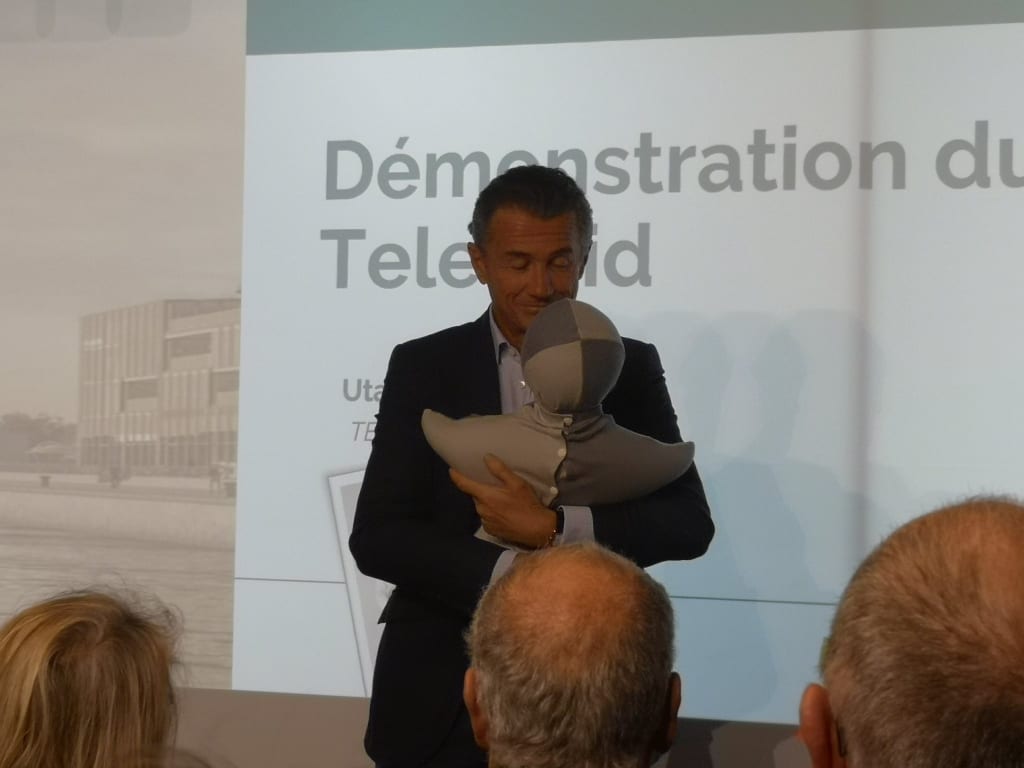 Currently, we are developing related applications tailored for an operational model for nursing care facilities, such as the minimal design to reduce visual information. We imagine things positively when we are in a healthy state.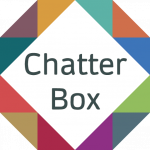 ChatterBox is an application that keeps a stock of information that will help you in your conversations.
Information about someone's personality includes what they like, what they don't like, their nicknames, and what era they grew up in.
These are all basic information for psychological care, but most are usually stored in one's notepad or memory. There is a variation in how staff members share this information, and it is not fully utilized for physical care.
There is also the issue of not being able to share information among multiple locations within the corporation because there is no information-sharing system aimed at helping care operations.
By inputting information about the person's personality, collected from senior staff into ChatterBox, the service can then be used as a tool that allows junior staff to learn the perspective of their seniors.
This service is also being developed as a system that works with Telenoid operation and video recorded interviews.
---
Utako Miyazaki(=Mia) CEO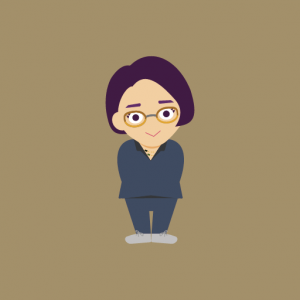 From her early twenties, Mia had to care for her grandmother with dementia at home for a total of fifteen years. She explored know-how and communication skills to add some amusement and wit into caring for a patient at home. Drawing on her talent to guide consensus-building among concerned parties, she launched a consultation service for health care companies. She was involved with designing Telenoid's service model robot and became CEO in 2017. She is also a motivational speaker, social media power Influencer, and author of Cultivating Old Age ~ Matters at Home-Care and other books.
2004 President, Taketori-Monogatari Co., Ltd.
2000 Family Representative, Tokyo Home Care Promotion Committee
2012 Adviser, Azuma-Dori Clinic (Patient family consultation)
2014 Manager, Medipass Co., Ltd.(Architected the documentary record for medical care personnel and patient families)
2014~ Founder and Director, The Association of the Dialogue Methods for Patients
2017 CEO, Telenoid Healthcare Company
Dr. Akihiro Nakao (=Aki)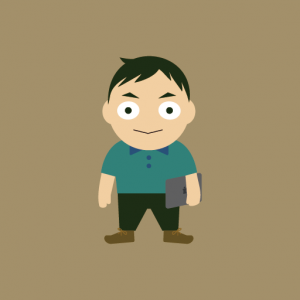 2006 Doctor's License, Miyazaki University School of Medicine
2006 Application Engineer, mixi, Inc.
2008 Founder and CEO (-present) Hymena&Co.
2008 CTO/Board of Director, Hikaku.com, Inc.(TYO:2477)
2012 Founder and CEO (-present) DoctorsMobile, Inc. doctorsmobile.jp
2018- Director, Telenoid Healthcare Company
---
Background
Needs in Dementia Care
There is a demand from caregivers for providing proper care to people with dementia. The primary symptom of dementia is brain dysfunction (memory disorder).
The real-life effects (called BPSD*, which refers to delusions, rants, and wanderings) are caused by complex core symptoms unique to each individual and difficult to control, made even more complicated by the addition of aging and social factors. It is said that most of the stress associated with dementia care is due to BPSD.
*BPSD: Behavioral and Psychological Symptoms of Dementia
Pros and Cons of Technology Intervention for
Past Failures, Spaghetti Syndrome
In the past few decades, combinations of several dementia care methods, such as ventilators, tube feeding, and drugs, have led to a problem we must reflect upon called "spaghetti syndrome." It is also regarded as a hotbed for rising social security costs, so it is necessary we break away from this trend.
Therefore, if technology is to intervene in the care of dementia patients, it must be through a model that achieves higher levels of dignity, efficiency, and autonomy than we have today.
Person-Centered Care
Person-centered care is a philosophy of dementia care advocated by Professor Tom Kitwood (Bradford University) that emphasizes the individuality, life, and dignity of patients with dementia and aims for each individual's best care. He also proposes an observation method for understanding dementia called DCM.
In the UK, it has become the national care standard to provide services for the elderly. This standard has spread to countries worldwide, such as the United States, Germany, Australia, Denmark, and Japan. However, learning DCM requires time and money. Therefore, only a limited number of Japanese domestic facilities can put DCM into effect.
Utako Miyazaki's Care Perspective
People with cognitive symptoms are sensitive to the information in their surroundings. We believe that the most important thing to manage symptoms peripheral to dementia is to control the amount of surrounding information and optimize the external environment, as stimuli like a person's presence can be detrimental. This idea is in line with ​​person-centered care, but we aim to achieve satisfactory results even with less experienced caregivers through technology.
---
Problem
What problem does the user (care facility manager) want to solve?
The basic model that maximizes economic efficiency is when a person-centered care practitioner supervises the field and creates a virtuous cycle of care by training the younger generation. Caregiver burden is reduced and elder satisfaction is increased, which leads to turnover suppression and promotes recruitment and retention.
However, the rapid increase in the number of elderly people with dementia makes person-centered care practitioners relatively scarce, leading to a decline in the quality of care. Under such circumstances, many nursing facilities are facing difficulties in acquiring nursing care personnel. In addition, in the current long-term care insurance system, if the number of nursing care staff decreases, so will open patient facilities. This will lead to lower revenue, the outflow of nursing staff, and further business difficulties.
It is necessary to break away from the old model and implement a new one in which anyone can easily become a person-centered care practitioner. We can do this through technology.
Survey of Practical Use Problems
The importance of the following four points was made apparent through continuous customer behavior analysis. In particular, the introduction of IT at nursing care sites is slow, and there are situations where staff members are not assigned individual mobile devices and email addresses, the use of personal smartphones during work is prohibited, and FAX is still the primary method of communication. Moreover, there is a significant difference between the facilities.
| | | | |
| --- | --- | --- | --- |
| 1 | Educational content | Implementation of individualized caregiver education | Program organized by practical experience and ability |
| 2 | Software | Individual records and information sharing | Specialized information on optimizing the external environment |
| 3 | Hardware | Device improvement | Communication settings, ease of remote operation, quality of collected data |
| 4 | Consulting | Configuration that matches the actual IT situation at the site of introduction | Proposals that including the promotion of IT in the future |
---
Verification
Controlling "Human Presence"
In our "Telenoid care" model, we focus on controlling human presence. So far, we have adopted Telenoid (a remote-controlled robot developed by Professor Hiroshi Ishiguro of Osaka University) as a dedicated speech transmission device.
Based on the findings of Utako Miyazaki (our representative) and her experience in family care, we developed dementia care teaching materials and a method of recording and then began trial operation. It has received positive evaluations by institutions practicing person-centered care and has been introduced into six nursing homes and two clinical research institutions (Griffith University Australia, National Center for Neurology and Psychiatry).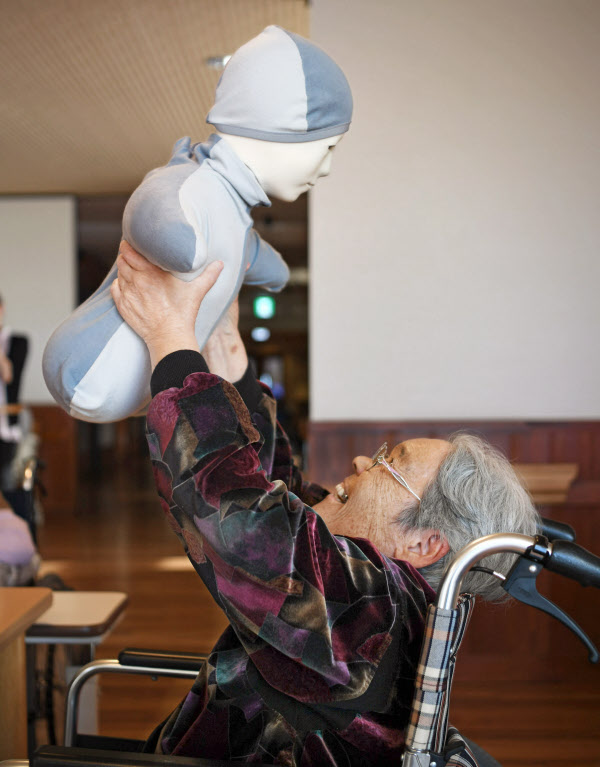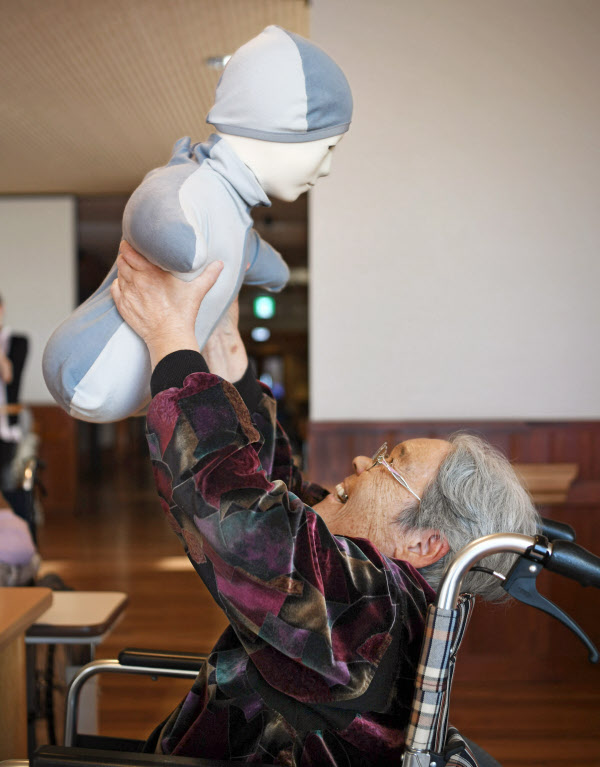 Highly Evaluated Aspects
Telenoid is accepted by people with dementia
A strong bout of restlessness lasting over an hour was resolved in ten minutes.
Has worth as a teaching tool to deepen dementia understanding
Efforts
Consultation Products from Telenoid Healthcare
We are developing a dissemination model to introduce to facilities where person-centered care is challenging to put into practice. In particular, we will analyze the data obtained through the recording application and proceed with research and development on the comfortable amount of external information for each individual. If the basis and the care method are associated with the individual, it will contribute to the establishment of non-drug therapy for dementia as well as realize automatic analysis.